Arthrosis, osteoarthritis
Arthrosis, osteoarthritis
What is arthrosis or osteoarthritis?
The osteoarthritis, also known as arthrosis, is a degenerative and progressive joint disease that is characterised by the joint cartilage loss. As a consequence of the cartilage loss, the bones rub and this produces an erosion of the very same bones.
It manifests itself with pain, inflammation or joint instability.
It is a disease more frequent in people older than 60 years-old but the general thought is that this disease is not a result of the ageing process but a biochemical and biomechanical tensions in which both the cartilage and bone have a key role.
Arthrosis types according to its evolution
No illness evidences. Cartilage is healthy
We can observe the start of the cartilage loss
Cracks start showing up, it means that the small cracks on the cartilage are deeper
Due to joint cartilage loss, the subchondral bone shows in the joint surface rubbing against itself
Exclusive content for the professional area registered users
effects on the osteoarthritis treatment
Reduce inflammation
Alleviate the pain and stiffness
Improves the physical ability and the energy levels
Exclusive content for the professional area registered users
effects on the osteoarthritis treatment
Reduce inflammation
Alleviate the pain and stiffness
Improves the physical ability and the energy levels
Other risk factors related to arthrosis
Congenital diseases such as bone dysplasia, scoliosis
Diseases from deposit of materials in the joint such as gouty arthritis
Endocrine-metabolic diseases: obesity, diabetes, hypo / hyperthyroidism, hemochromatosis…
Background of cargo or trauma such as professional sport
The arrival in the climacteric, due to the loss of the protective role of oestrogen
Our professional mycotherapy specialist advisors can provide tailored advice and mycotherapy protocols using Hifas da Terra organic mushroom products.
Which medicinal mushrooms have useful properties in arthrosis?
The selected Mushrooms to the arthrosis treatment should have the following abilities: anti- inflammatory, antioxidant, analgesic and energizing.
It has anti-inflammatory, analgesic and antioxidant properties
A portion of the Reishi compounds, triterpenoids, make it a great anti-inflammatory and one of the most powerful natural antioxidants that exist. The Reishi antioxidant effect is due to the ability of its active ingredients to capture free radicals, improving the decrease in the oxidation state related to age.
Increases the physical resistance and the muscular mobility
Cordyceps increases vitality and fatigue resistance, which favours patient mobility. This favour the joint musculature, helping the bones support less weight and slow down wear.
Besides having adaptogens, this mushroom also has anti-inflammatory properties.
Decreases fat and helps with weight control
It has been observed that Maitake improves fat metabolism by its lipid lowering effect, helping in weight control and avoiding the accumulation of fat in the organs.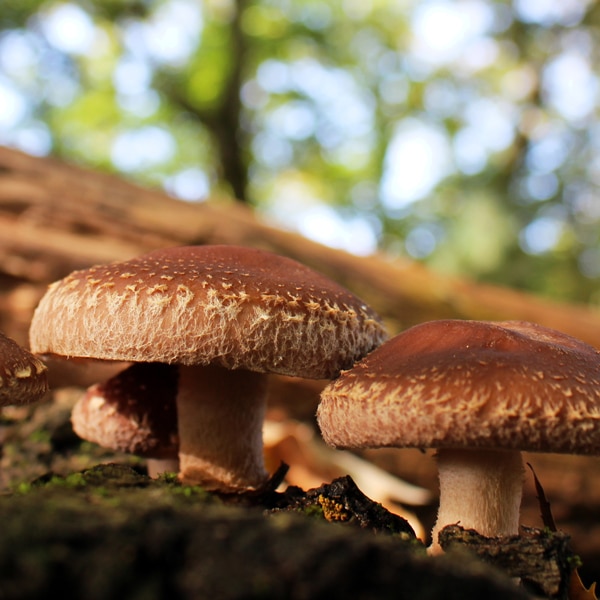 Its ability to alkalize the medium is very effective in reducing hyperuricemia by removing uric acid through the urine and not depositing in the joints.
Powerful antioxidant action
Its high content of different antioxidant enzymes (SOD, glutathione, laccase, catalase, pectinase …) gives it preventive properties against cell degeneration.
Powerful immunomodulator, antioxidant and anti-inflammatory
Chaga is a fungus that contains a large number and variety of polysaccharides capable of acting on more macrophage membrane receptors than other fungi. In addition, it has a high antioxidant and anti-inflammatory value. Studies in animal models have shown that some specific Chaga compounds can act against cancer cells and stimulate the immune system.
Discover the Exclusive Practitioner Area
Free Access to Mycotherapy Resources and Online Support for Health Professionals
Nutritional recommendations and health habits
Avoid meat products, especially red meat and derivatives
In general, you cannot take baked goods or pastries.
You should also avoid the consumption of pre-cooked and dried fast-food type soup soups.
Avoid or reduce salt consumption to a minimum. When you consume it, choose preferably unrefined salt. You can substitute the garnishes of the meals with spices, for example.
When cooking and seasoning your dishes always use extra virgin olive oil, prioritizing its consumption in crude.
Our advice is to take fatty or semi-fatty fish (blue fish) 2 to 3 times a week. Varies the species: salmon, red mullet, sardines, horse mackerel, bonito, tuna, mackerel, anchovy, etc.
Increase the daily consumption of vegetables.
Do not drink alcohol.
Do not consume industrial processed products rich in sugars, salt, oils and additives that are harmful to health (cookies, toast, bread, industrial cereals …).
It prioritizes the consumption of whole grains and avoids refined flours (white bread, pasta, biscuits …).
The preparation techniques of preference are: cooking, steaming and grilling. Do not take fried, breaded, barbecued or barbecues.
It is important that you increase physical activity: walking, running, swimming, aerobics, going up and down stairs … The best thing is that you schedule it as a daily activity.
Do relaxation exercises if you feel stressed or overwhelmed or if you have muscular tensions, since that feeling of tension may indicate that your stress levels are higher than normal. The use of these techniques will help you to regulate the alterations of stress hormones and to relax the tensions that your body presents, both physical and emotional.
Balandaykin ME, Zmitrovich IV: Review on Chaga medicinal mushroom, Inonotus obliquus (higher Basidiomycetes): Realm of medicinal applications and approaches on estimating its resource potential. Int J Med Mushrooms, 2015; 17(2): 95–104.
Burmasova MA, Utabaeva AA, Sysoeva EV, Sysoeva MA: Melanins of Inonotus obliquus: Bifidogenic and antioxidant properties. Biomolecules, 2019;9(6):248.
Досычев ЕА, Быстрова ВН: Лечение псориаза препаратами гриба "Чага". Вестник Дерматологии и Венерологии, 1973; 5: 79–83.
Duru KC, Kovaleva EG, Danilova IG, van der Bijl P: The pharmacological potential and possible molecular mechanisms of action of Inonotus obliquus from preclinical studies. Phytother Res, 2019;33(8): 1966–1980.
Fan LP, Ding SD, Ai LZ, Deng KQ: Antitumor and immunomodulatory activity of water-soluble polysaccharide from Inonotus obliquus. Carbohydr Polym, 2012;90(2): 870–874.
Geng Y, Lu ZM, Huang W, Xu YH, Shi JS, Xu ZH: Bioassay-guided isolation of DDP-4 inhibitory fractions from extracts of submerged cultured of Inonotus obliquus. Molecules, 2013;18(1): 1150–1161.
Géry A, Dubreule C, André V, Rioult JP, Bouchart V, Heutte N, Eldin de Pécoulas P, Krivomaz T, Garon D: Chaga (Inonotus obliquus), a future potential medicinal fungus in oncology? A chemical study and a comparison of the cytotoxicity against human lung adenocarcinoma cells (A549) and human bronchial epithelial cells (BEAS-2B). Integr Cancer Ther, 2018;17(3): 832–843.
Han ZH, Zhang JC, Liu JN, Dai XD, Kong XH, MA QF, Zhang PQ: Artificial cultivation of Inonotus obliquus. Acta Edulis Fungi, 2010;17(2): 36–42. [in Chinese]
Javed S, Mitchell K, Sidsworth D, Sellers SL, Reutens-Hernandez J, Massicotte HB, Egger KN, Lee CH, Payne GW: Inonotus obliquus attenuates histamine-induced microvascular inflammation. PLoS ONE, 2019;14(8): e0220776.
Liu P, Xue J, Tong SS, Dong WX, Wu PP: Structure characterization and hypoglycaemic activities of two polysaccharides from Inonotus obliquus. Molecules, 2018;23(8): pii: E1948.
Liu ZD, Yu DS, Li L, Liu XX, Zhang HN, Sun WB, Lin CC, Chen JF, Chen Z, Wang WH, Jia W: Three-phase partitioning for the extraction and purification of polysaccharides from the immunomodulatory medicinal mushroom Inonotus obliquus. Molecules, 2019;24(3): pii: E403.
Nomura M, Takahashi T, Uesugi A, Tanaka R, Kobayashi S: Inotodiol, a lanostane triterpenoid, from Inonotus obliquus inhibits cell proliferation through caspase-3-dependent apoptosis. Anticancer Res, 2008;28(5A): 2691–2696.
Sagayama K, Tanaka N, Fukumoto T, Kashiwada Y: Lanostane-type triterpenes from the sclerotium of Inonotus obliquus (Chaga mushrooms) as proproliferative agents on human follicle dermal papilla cells. J Nat Med, 2019;73(3): 597–601.
Staniszewska J, Szymański M, Ignatowicz E: Antitumor and immunomodulatory activity of Inonotus obliquus. Herba Pol, 2017;63(2): 48–58.
Sun Y, Yin T, Chen XH, Zhang G, Curtis RB, Lu ZH, Jiang JH: In vitro antitumor activity and structure characterization of ethanol extracts from wild and cultivated Chaga medicinal mushroom, Inonotus obliquus (Pers.:Fr.) Pilát (Aphyllophoromycetideae). Int J Med Mushrooms, 2011;13(2): 121–130.
Xue J, Tong SS, Wang ZR, Liu P: Chemical characterization and hypoglycaemic activities in vitro of two polysaccharides from Inonotus obliquus by submerged culture. Molecules, 2018;23(12): pii: E3261.
Yong TQ, Chen SD, Liang DL, Zuo D, Diao X, Deng CL, Wu YN, Hu HP, Xie YZ, Chen DL: Actions of Inonotus obliquus against hyperuricemia through XOD and bioactives screened by molecular modelling. Int J Mol Sci, 2018;19(10): pii: E3222.
Zhang LX, Fan C, Liu SC, Zang ZF, Jiao LL, Zhang LP: Chemical composition and antitumor activity of polysaccharide from Inonotus obliquus. J Med Plant Res, 2011;5(7): 1251–1260.
Zheng WF, Liu T, Xiang XY, Gu Q: Sterol composition in field-grown and cultured mycelia of Inonotus obliquus. Acta Pharmacol Sin, 2007;42(7): 750–756.
Zheng WF, Zhao YX, Zhang MM, Yin ZJ, Chen CF, Wei ZW: Phenolic compounds from Inonotus obliquus and their immune-stimulating effects. Mycosystema, 2008;27(4): 574-581.
Isokauppila T: Healing Mushrooms : A Practical and Culinary Guide to Using Mushrooms for Whole Body Health. New York : Avery, 2017. 215 p. ISBN 978-0-7352-1602-0
Lelley J: Die Heilkraft der Pilze : Gesund durch Mykotherapie. Düsseldorf : München : ECON Verlag GmbH, 1997. 236 p. ISBN 3-430-15953-9
Powell M: Medicinal Mushrooms : A Clinical Guide. 2nd updated and expanded ed. Mycology Press, 2014. 152 p. ISBN 978-0-9566898-2-5
Rogers R: The Fungal Pharmacy : The Complete Guide to Medicinal Mushrooms & Lichens of North America. Berkeley, CA : North Atlantic Books, 2011. 591 p. ISBN 978-1-55643-953-7