Clinical trials support us
THE CUTTING EDGE OF BIOTECHNOLOGICAL INNOVATION IN MEDICINAL MUSHROOMS
At Hifas da Terra we are committed to innovation and scientific research, offering solutions that improve people's health and wellbeing through pre-clinical and clinical trials in which the efficacy of our products is tested and proven.
In this way we cross the biotech frontier and make our way into biopharma, researching new patentable products as well as new medical devices status for areas not currently covered by pharmacology. Our target is to contribute to a healthier and more protected society.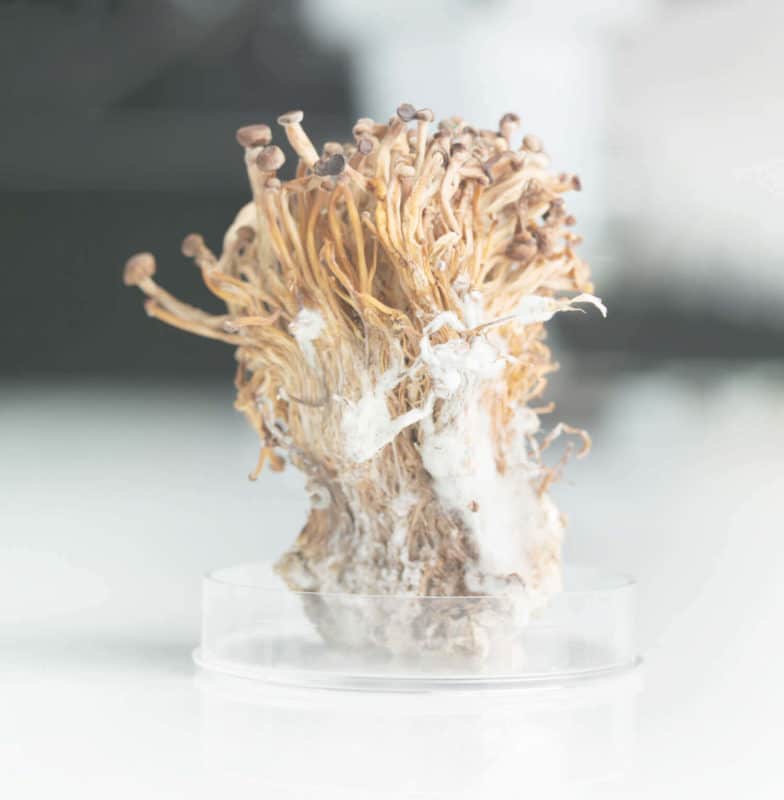 WE ALLOCATE
62%

OF OUR PROFITS TO R&D
MORE THAN
200

MULTI-DISCIPLINARY EXPERTS WORK WITH US
We have our own large scientific team and more than 200 multidisciplinary collaborators. Some of the entities with which we collaborate include:
Ourense University Hospital

Meixoeiro Hospital
MORE THAN
15

ACTIVE PROJECTS
We are the leading biotech in natural product research and development, with more than 15 active studies including controlled clinical trials in oncology patients, as well as quality clinical research in the area of women's health, gut microbiota and in patients with COVID-19 and long COVID, SIBO-Irritable Bowel Syndrome, DAO deficiency and diverticular disease.
SCIENTIFIC AND BIOTECHNOLOGICAL INNOVATION
Through innovation we elaborate new processes and protocols that have a positive impact on people's well-being. We do this by building on existing evidence from medicinal mushrooms and clinical research and introducing innovative and sustainable technological processes and smart 4.0 technologies. The result is the creation of a new model of safe and effective food supplements that answer real needs.
IWe innovate in the organic cultivation of medicinal mushrooms by introducing sustainable production in bioreactors, a pioneering system that allows us to cultivate mycelium under standardised conditions and expands the medical applications of the extracts by varying culture media, selecting specific strains oriented to results, etc. This system also allows us to more efficiently isolate active biomolecules and new ingredients that improve our nutritional supplements.
We are laying the foundations for what we call "mycotherapy à la carte", i.e. the formulation of novel products to address specific situations and specific genetic conditions. Currently, at Hyfas da Terra we already conduct studies to demonstrate the safety and efficacy of our products, a global standard of excellence that applies to all new projects and products.
The know-how acquired thanks to the scientific and technological expertise of our R&D&I team opens the door to the creation of new patents based on medicinal mushrooms and their applications, whether it be in the form of food supplements or medical devices, amongst others.
Conducting model studies and clinical trials in patients with prevalent diseases and symptoms.
THERAPEUTIC AREAS OF RESEARCH
CLINICAL TRIALS 2020 – 2025
Other R&D projects and observational studies in humans
Communications at conferences